Whether you have been a program manager for a few days, a month, or even a decade, at some point you may be in the market for a new application management system. The simple fact is that being a program manager takes a lot of time and energy. As a result, you will likely find yourself looking for ways to make your job easier. With that said, we'd like to offer some tips and advice for what to look for when shopping for submission software. After all, there are many options, but they are certainly not all created equal.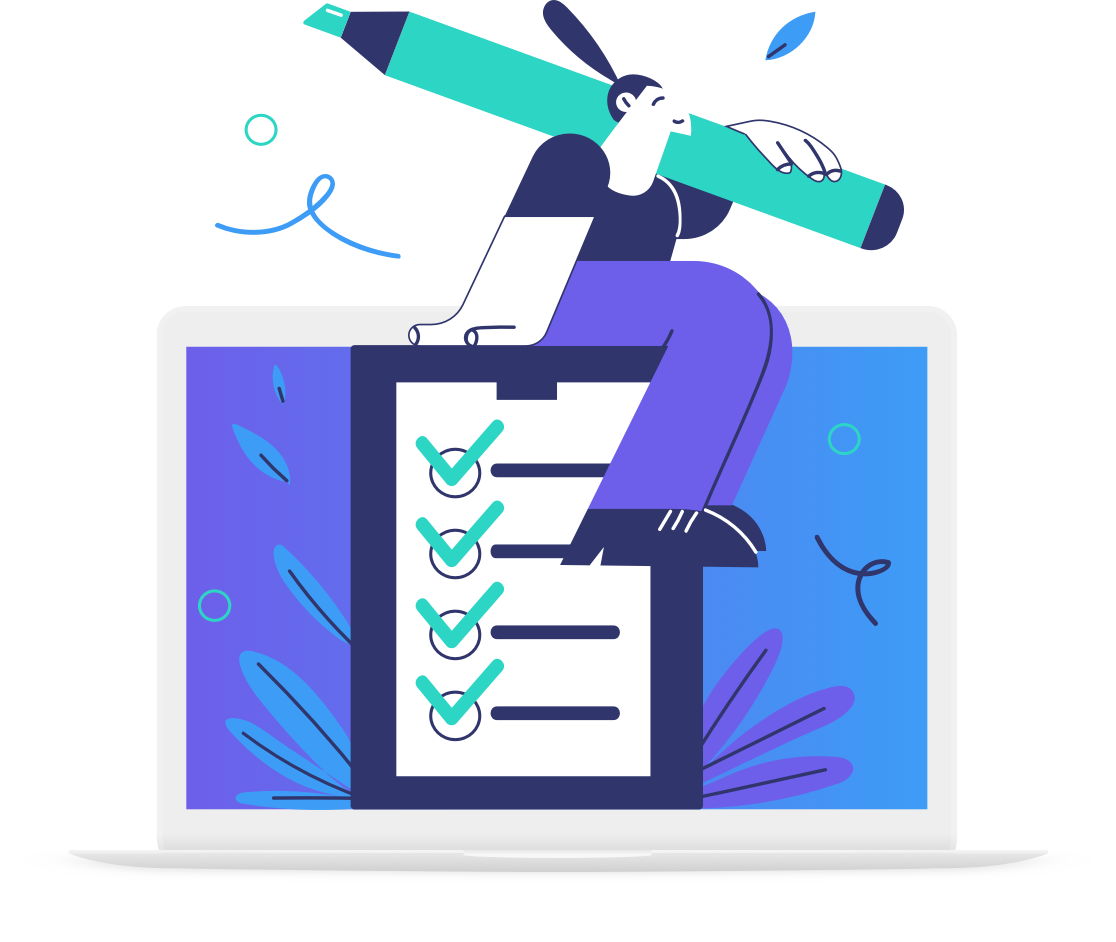 In this buyer's guide to application management systems, we'll share:
The benefits of using application management software

What to look for when shopping

Questions to ask when trying demos of the various solutions available, and much more

We know you have a busy schedule, so there's no time to waste. Let's dive right in.
CHAPTER 1


8 Benefits of Application Management Software

Think back for a moment to the old days before GPS. We would get on the road, use a paper map, and/or travel the routes we knew, and merely have an estimate as to when we would arrive at our intended destination.
Then, there was a period of time where we had Mapquest. Do you remember that? It was so exciting seeing a new method of determining the fastest route from point A to point B. You could get turn-by-turn directions, and even have a better estimate of how long it would take you to get there. All you had to do was print out your map and directions, and head out on your merry way.
Low and behold, technology improved again and the technology powers that be granted access to Google Maps, the Waze App, and a whole host of other applications. These apps not only provide turn-by-turn directions, but can also tell you if the route you intend to take has any obstructions that could cause you to be delayed. To most people, the idea of trying to use pen and paper, or even printing directions via Mapquest to get to our intended destinations feels outdated and like a complete waste of time.
It's the same with using antiquated application submission methods for your scholarship, grant and awards programs. Come out of the dark ages and into the age of working smarter, not harder. And, if you're already digitized, but still using Google Forms or email, you can further upgrade your process again with an even better application management system. Here are just eight benefits you will enjoy by moving to a digitized application management solution that keeps up with the times:
Your pool of applicants will improve

Save time

Reduce expenses

Improved communication across the board

There will be fewer errors

Reduced carbon footprint

Improved security

Simplify award selection and notification process
Improved Pool of Applicants

Picture this - your prospective applicant arrives on your application page and sees the qualifications, and instantly knows they don't qualify to be considered for the award. They click away, and your administrative team has just saved the time and energy required to process their application. Even better is that the people that do qualify are seeing it in their search engine results and on grant/scholarship/award program boards. Therein lies the beauty of an upper-level digitized application management system.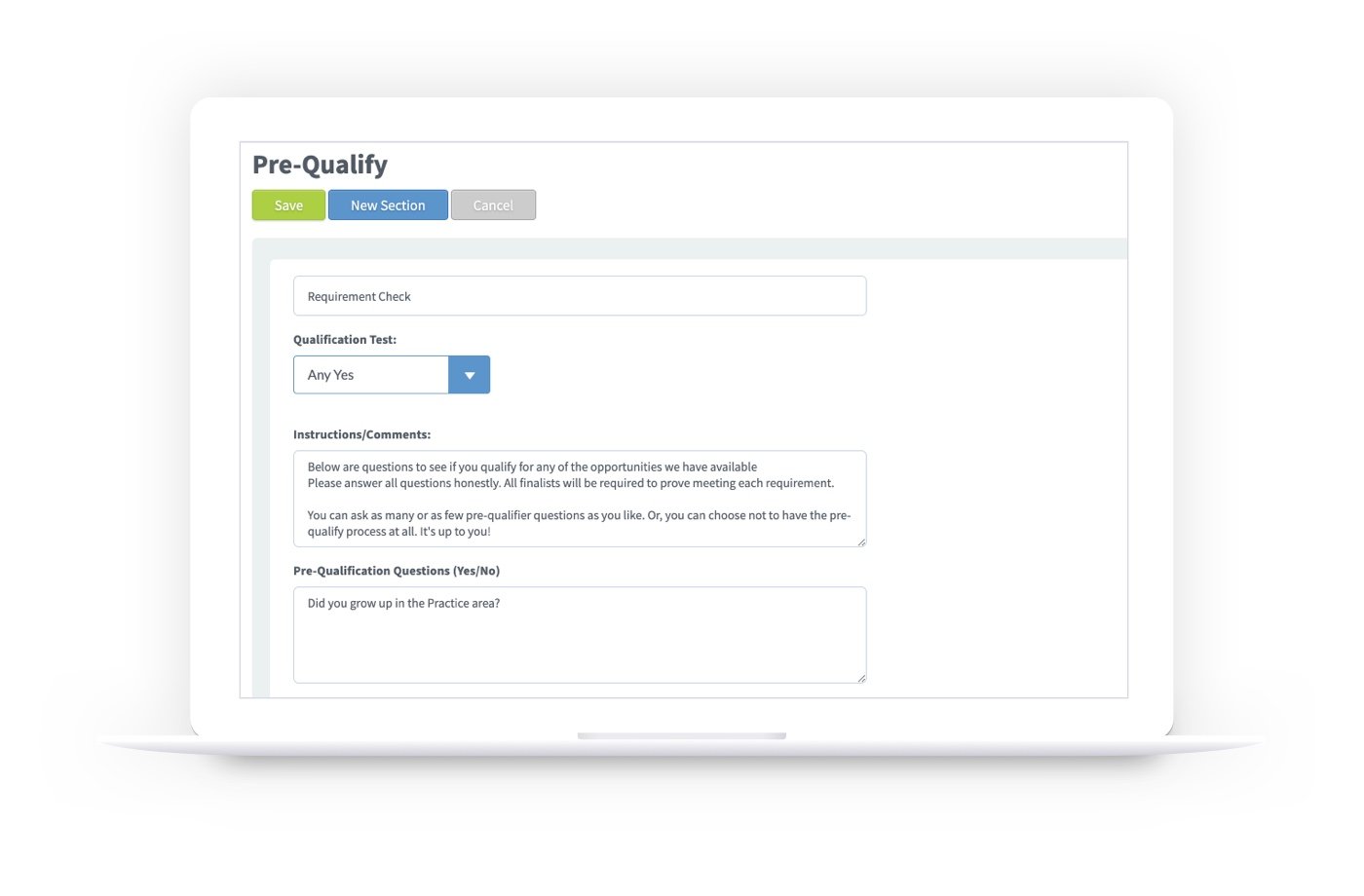 People who might not have otherwise learned about your opportunity, but do qualify, are now applying. And, the people who don't qualify know they shouldn't go through the process before they even try to get started.
Save Time

This might just be the most precious resource for an award administration team. There's a saying that you can always get more money, but you can't get more time. Not only will you save time by filtering out unqualified applicants quickly and efficiently, but you will also save time on many of the repetitive tasks that can be automated with software.
Case in point - the old way of managing frequently asked questions, was someone had to open an email and read the question and then respond to it. Sure, they can copy and paste from a pool of answers to save time. But, what's even easier and saves more time than that? Having a bank of frequently asked questions that can be sent via an autoresponder.
If that wasn't enough, your application management system can reduce even more correspondence related to the specifics of how to fill out forms with question-level hints and qualifiers. For example, if someone is unsure of how to answer an income question, you can provide a question-level hint such as: "Write your income earned per year in number format $00,000.00"
Other ways you will save time with software include, but aren't limited to:
Autoscoring - no more wasting time with a calculator tallying up data
Application filtering - people who don't meet certain criteria won't even get to the evaluation team
Evaluator note sharing - instantly allow evaluators to share and compare notes to determine eligibility that much faster
All files will be in one place - no more looking all over the office matching letters of recommendation to applications
Reduce Expenses

Time is money, and by saving time, you instantly will save on the number of hours you have to pay in labor costs. Additional savings include reduced gas - everything will be submitted digitally preventing the need for constant runs to the post office. And, since you can send emails and even let your award recipients know if they were chosen digitally as well, you can reduce postage fees as well. Finally, since everything for the program can be housed online, you won't need to pay as much for large offices to hold filing cabinets.
Improved Communication Across the Board

With the help of an intuitive application management system, you can easily and swiftly communicate with everyone in your team, applicants, sponsors, and more. While many pieces of correspondence will take care of themselves thanks to your question-level hints and FAQ page on your application forms, additional correspondence will be managed efficiently as well.

Want to tell your applicants about an impending deadline? Need to remind everyone to submit their letters of recommendation? Or inform everyone of the selected recipients? You can send text messages and emails with the click of a button. People want to be kept apprised of all updates and relevant information, and thanks to your application management solution, this task becomes simplified.
Massive Reduction in Errors

To err is human, and that is why we have software. The beauty of computers is they reduce the number of errors that can occur with calculating scores and reading data. And, because there will be less errors when tallying up things like scoring rubrics, you and your team will save more time and resources on sorting applications and selecting award recipients
Reduce Carbon Footprint

Whether your program's initiative is to be a little more green or not, the simple fact is that using an application management system will reduce your carbon footprint. Less printing of paper, less use of electricity because you no longer need to cool and use electricity in as big of an office, and less gas being required to run errands - all of these things add up. And, even if you aren't as concerned about going green, odds are you will enjoy the savings of not needing as much copy paper and toner.
Improved Security

Every letter with someone's personal data printed on it, puts that person at risk of having a piece of their identity stolen. This is especially true if they are mailing in an application with their social security number, birthdate, and other sensitive data on it, and it happens to be intercepted by a nefarious individual. The simple fact is, locking down data is more important in 2021 than ever before. That's why you need an application management system that encrypts this sensitive data.
Simplify Award Selection and Notification Process

One final benefit of an application management solution that we have already alluded to is that using software makes it much easier to select and notify award recipients. Not only is tallying up scores more efficient, but once you have chosen the recipients, you can notify them with a quick email.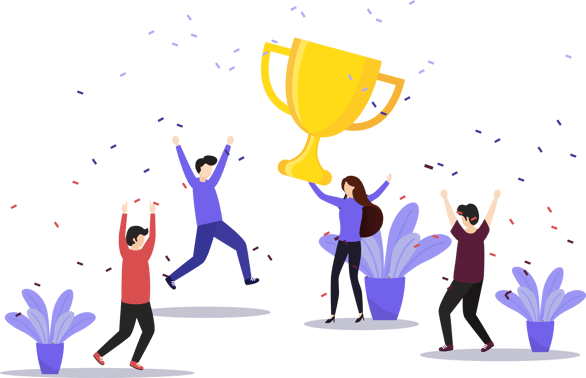 Bottom line - it's never been easier to run a scholarship, grant, or award program thanks to software!
In the next chapter, we'll go over what to look for when shopping for an application management system. We will also share our cheat sheet that you can use when testing demos to quickly decide if the software you are considering will work for you.
CHAPTER 2


What to Look For When Shopping
We know that it can be quite overwhelming when you are shopping for an application management system. With that in mind, here are several things you should look for while shopping:
It should be easy to use

It should be flexible enough to meet your unique needs

It must be secure, and yet easily accessible by authorized users

There should be adequate data storage

The software should offer plenty of support

There should be plenty of features, especially automated ones to save you time

Collaboration and shareability should also be effortless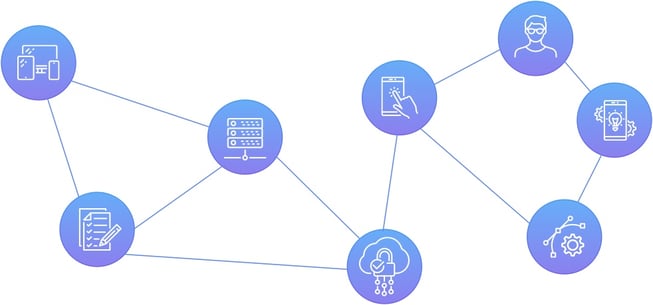 Now that you know what to look for, let's break these elements down further so you will be armed with everything you need to make a smart buying decision.
It should be easy to use

A program manager's job is filled with lots of tasks. Adding a long and arduous training program on how to use an application management system shouldn't be one of them. Your submission software of choice should make your job easier, and the learning curve should be minimal!

It should be flexible enough to meet your unique needs

The best application management systems integrate with the programs and tools you are already using. Think DropBox, Trello, Salesforce, and the like. You have very specific needs to be met, and it's important to find an application management solution that meets as many of them as possible.
For example, you need software that can help you manage 10,000 applications just as easily as you can manage 100.
It must be secure, and yet easily accessible by authorized users

Whoever you choose to use for your application management system must have security top of mind. Forbes reported that 2020 was the year that broke all records in terms of the number of data breaches, and that cyberattacks show no signs of slowing down. That is why you need a software program that encrypts your data to protect both your applicants and your team!

There should be adequate data storage

There are several elements to an application submission. From transcripts and essays to letters of recommendation and proof of income. It's critical you choose an application management system that is equipped to store all of this data.
The software should offer plenty of support

There are few things as frustrating for a program manager as having their entire program come to a screeching halt when something goes awry with their software and they are unable to get swift support from the software company. You need to know how accessible IT and support will be in the event you or any member of your team have questions along the way.
There should be plenty of features, especially automated ones to save you time

Again, the goal of software is to save you time and money. This means you need automated features like instant calculations, automated scoring, application filtering and more.
Collaboration and shareability should also be effortless

Can your users access your application anywhere with an internet connection? And, can your evaluators easily collaborate and share notes on applicants? If you answered no to both of these questions, you may want to look for an upgraded application management system.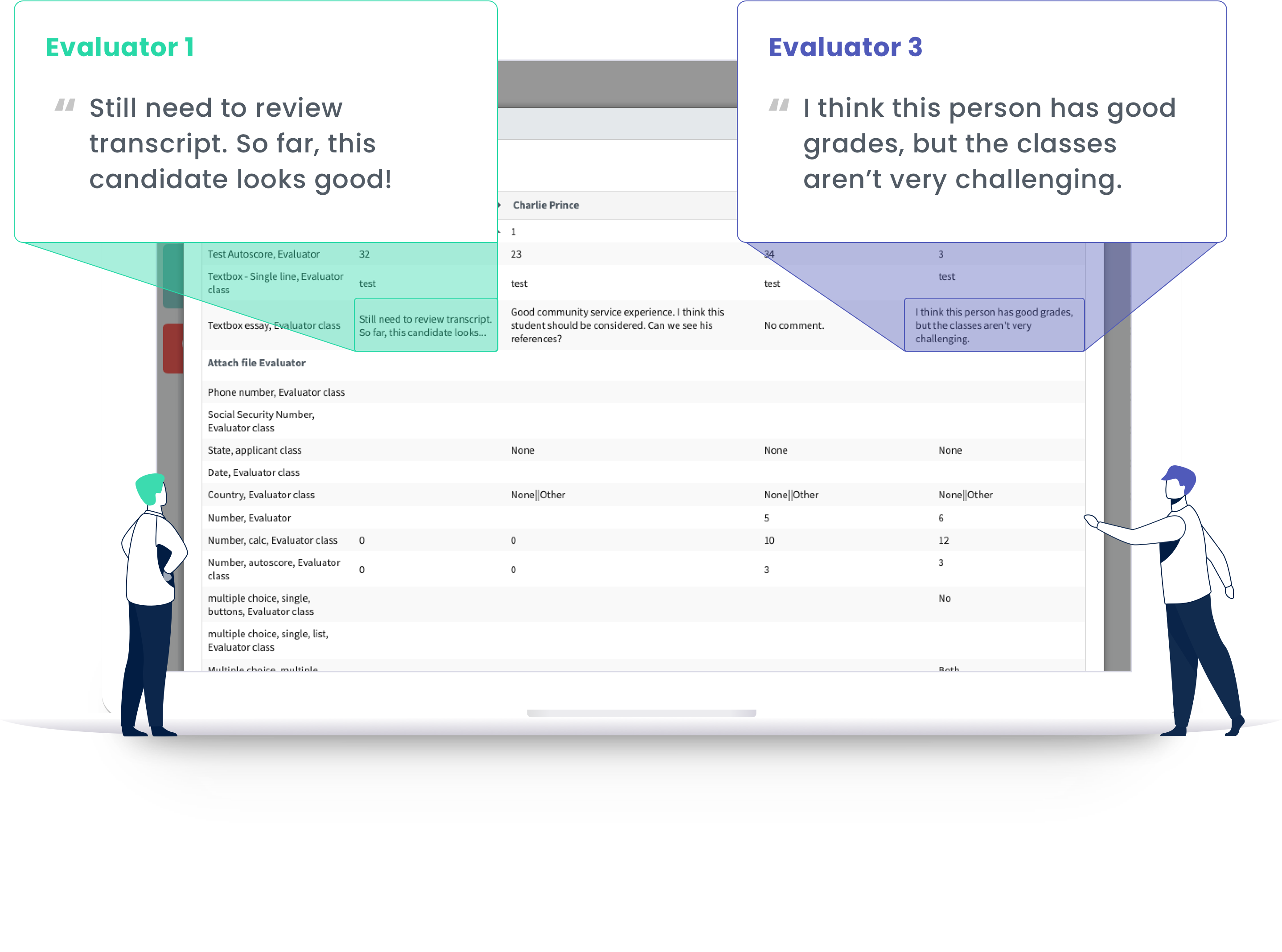 Below is a cheat sheet you can use to quickly eliminate programs from your list of options of submission software. When you call or click for more information about it, or if you choose to do a product demo, ask yourself the following questions:
Easy to Use

Can anyone understand the setup? Or will I need outside help?

Do I need coding skills?

Does this software require apps and plugins to be downloaded?

Will my applicants need a tutorial to understand how to fill out forms?

How long does it usually take to set up and start receiving applications?

How easy is it to create, edit, publish and share application forms?
Product Versatility

Am I and my users limited to the files we can accept?

Is there a limit to the options of questions I can add to my application form?

Can I include my brand colors and logos on my applications?

Can mobile users fill out applications on their device?

What about software integration? Our team uses Trello and Google Drive (or insert your programs here) - can these integrate well with your submission software?
Security & Accessibility

Will my data and the data of my users be safe?

Is there a privacy policy in place, or do I need to create one?

Do you have systems in place to prevent unauthorized access to sensitive data?

Is your program GDPR, CCPA, and HIPAA compliant?
Storing Data

What are the storage limits on data?

What happens if I exceed this limit?/What is the fee for exceeding this limit?

Where do you store the data of our users?

Is it easy to retrieve, access, and use data?

Are there limits to the size of files users can submit?

How easy is it to search for the data that users upload?
Customer Support and IT

Is customer support and IT assistance limited during certain hours of the day? If so, what are those limits?

Do you train new users in how to implement the software?

Where can I go if I have questions? Do you have a frequently asked questions page?

Is there ongoing training and tutorials for issues I'm not necessarily thinking of right now?
Types of Features

What features of your program will save me time and money?

What are the specific tools for automating the application process?

Are there limits to features based on pricing?
Collaboration & Review Tools

What are the features I can use to communicate with my team and pool of applicants?

How can my team collaborate and share notes?

Is it easy to share evaluation tools and review applications?

What is the login process like?

Can users choose the information that is shared? And, can program managers limit what data is visible to reviewers?
Access - Network Requirements

Can applications be accessed and filled out online?

Do you need to download the software, or can it be accessed anywhere with WiFi?

Can laptops, tablets, and smartphones access and fill out applications?
In the next chapter we will share the best application management software on the market, and details on how to try it out completely free!
CHAPTER 3


The Best Application Management Software
Though we may be biased, we believe our software SmarterSelect is the best application management system available to program managers. Since 2007, we have helped more than 1.6 million people and well over 40,000 programs successfully launch, run, and complete their programs for scholarships, grants, and other awards. Read more about our backstory here.
Our Features and How Our Software Works

When you first create an account with SmarterSelect, we help you get set up to launch your program as quickly as the same day. We arm you with the tools to develop an application form using our customizable templates so that your forms are ready to deploy in minutes.
We also offer the following features to make your job much easier:
Free training including webinars, tutorials, and walkthroughs

A customer forum filled with program managers just like you so you can compare notes and ideas for running your own program

New live chat support to get instant answers to your most pressing questions
Automated features include:
Recommendation

Pre-qualifications

Scholarship/Grant/Award matching

Calculations

Scoring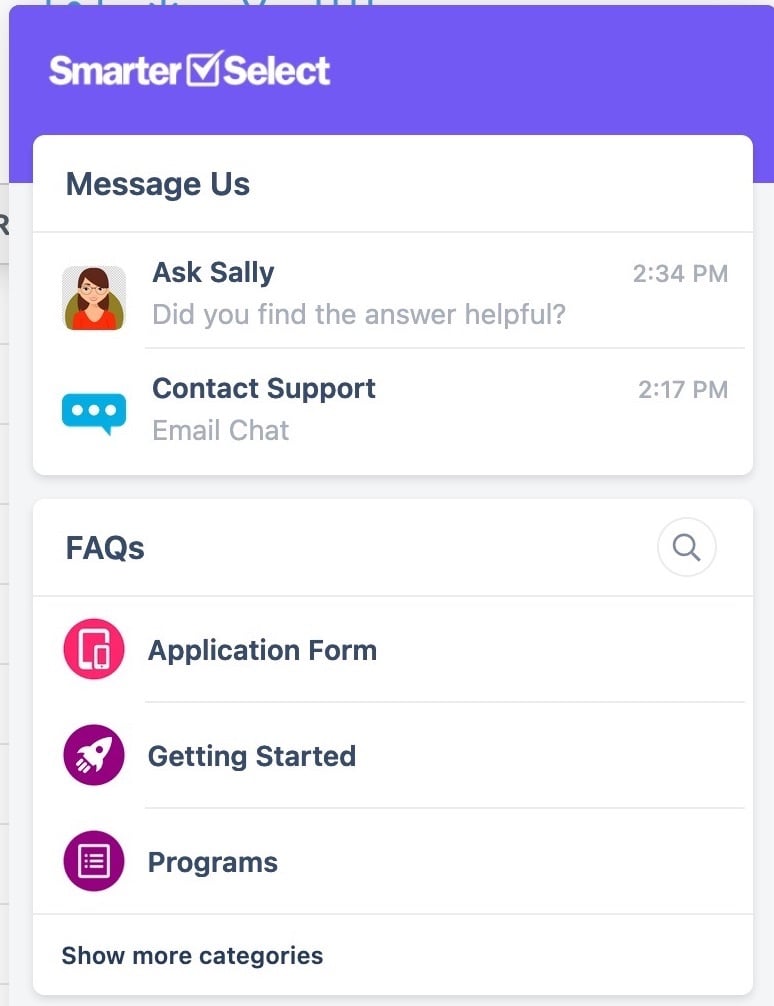 Collaboration tools for evaluators

Communication tools to make it easy to keep in touch with your team, applicants, vendors, sponsors, etc…

Award tracking

Single Sign-On

Security and data encryption

Data storage to manage a few or even several thousand applicants
And so much more.
Pricing Options

We are proud to offer pricing tiers that fit your unique needs. We have packages for 500 users, 2,500 users, 10,000 users and more. If you need a plan for more than 10,000 we have custom solutions as well. Learn more about our pricing tiers here.
Top-notch Customer Support

One of our latest upgrades was creating Sally Select. With this chatbot, you can now ask any question and get an instant response from our knowledge base 24/7. And, if you can't find the answer you are looking for, you can email support@smarterselect.com to get one-on-one assistance. Or, you can go to our help center and submit a support ticket.
We are constantly updating our knowledge base, training, webinars, and walkthrough tutorials to give management teams everything they need to successfully manage their programs.
Try SmarterSelect FREE Today
Want to try SmarterSelect for yourself? We are thrilled to offer a free trial to show you just how easy it is to get started creating an application and launching your program.

Click here to get started for free now

!
Start Your Journey to Better Application Management Today!
Priced for non-profits. No set-up fees.
No long-term contracts. Powerful features.
Go live in less than 24 hours.